Frontier Scientific Services is pleased to now offer a newly optimized insect diet for mass rearing Diamondback Moth specimens, Product #F9441B. Features of the diet account for ease of use and adaptability to multiple bio-assay and rearing formats, including high density applications. The consistency of the diet is ideally formulated to maintain its integrity beneath the larval feeding surface. Larval frass desiccates above the feeding interface, preventing unwanted leaching of contaminating excrement into the diet. Specimen developmental times are robust and are consistently reproduced with exceptional cohort vigor and synchronicity. The diet easily supports larval development through pupation yielding adult moths with very high fecundity rates.
Developmental Times at 28˚C
Egg (Eclosion) ______________ 48 Hours
Larval (To Pupation) __________ 8 Days
Pupal (Eclosion)_______________ 2 Days
    Adult (Peak Ovipostion) _______ 2-4 Days
Life Cycle: ______________ 14- 16 Days
Diamondback Moth Egg Sheet (24 hr. Oviposition Window)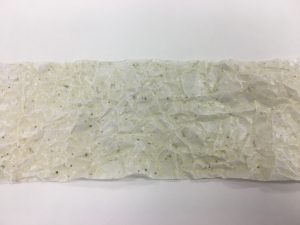 Diamondback Larvae Developing on Frontier Scientific Services Product #F9441B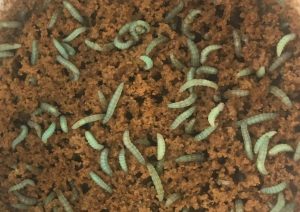 Late Instar Larval Synchronicity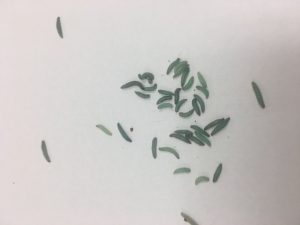 Diamondback Moth Pupae, High Density Rearing
PRODUCT #F9441B: MIXING INSTRUCTIONS
DIAMONDBACK MOTH DIET
(Mix Components Separately for Best Results)
DIRECTIONS TO PREPARE 1 LITER
Set up blender (or mixing bowl/whisk), diet prep bowls, and rearing units to be filled.

Pre-weigh each of the following components keeping them separated into 4 weigh boats or measuring containers.

159g Dry Mix
11.0g Agar
10.0g USDA Vitamin Mix
0.20g Chlortetracycline
7ml Linseed Oil (international orders sourced separately)
In a microwavable mixing bowl add 11gm of agar to 400ml cold water.

Heat the agar suspension bringing it to a full boil.

Occasionally mix as the agar solution heats to suspend the agar

Be careful not to overflow the container as it reaches boiling

When the agar solution reaches a full boil remove heat and add 100ml of cold water to moderately drop the temperature of the boiled agar solution.
In a separate mixing container add 159g of the Dry Mix and 7ml of Raw Linseed Oil, then add cold water to bring the final volume of the dry mix suspension to 500ml.

Immediately add the boiled agar solution

Add 10g USDA Vitamin Mix and 0.20g Chlortetracycline
For larger batches multiply the formulation by the factor you which to size the batch.